Despite the many challenges caused by the quarantine, students and faculty have found unique and creative ways to engage in meaningful learning opportunities.
March 2020 proved a chaotic transition period for both BYU students and faculty. In the middle of an ordinary semester, the university administration announced the cancellation of in-person classes. Without much warning, professors, now thrown into new online learning trainings, video chat programs, and social isolation, faced the daunting challenge of restructuring their classes to fit this new mode of teaching during a pandemic.
Although learning and teaching from home offers some convenience for students and faculty, many agree that it is a less-than-ideal learning environment. In a recent study, 92% of BYU undergraduates reported feeling personally connected to others in their classes as they learned in a physical classroom space, while only 63% reported feeling connected in an online classroom setting. In addition, 96% of students felt more engaged in the classroom than online, and 66% of students reported having an easier time commenting in a physical classroom.1
Yet, despite the many challenges caused by the quarantine, students and faculty have found unique and creative ways to engage in meaningful learning opportunities. Cherice Montgomery, of the Department of Spanish and Portuguese, feels like online learning has provided opportunities that were not available last year.
"Before, we set up fair booths and students walked around and interacted with them, but now I can virtually transport them to Spain and give them a virtual tour," said Montgomery.
In the Department of Asian and Near Eastern Languages, associate professor Julie Damron stated that online learning has prompted her to use a "flipped classroom" model, where students learn on their own first and come to class with questions, prepared to practice what they have learned.
"It breaks the monotony of just sitting at your desk in class," Damron continued. Like many professors, Damron plans to apply this teaching style even after BYU returns to traditional, in-person learning.
Shin Tsuchiya teacing over Zoom
Lupita Herrera
Assistant Professor Daniel Paul teaching over Zoom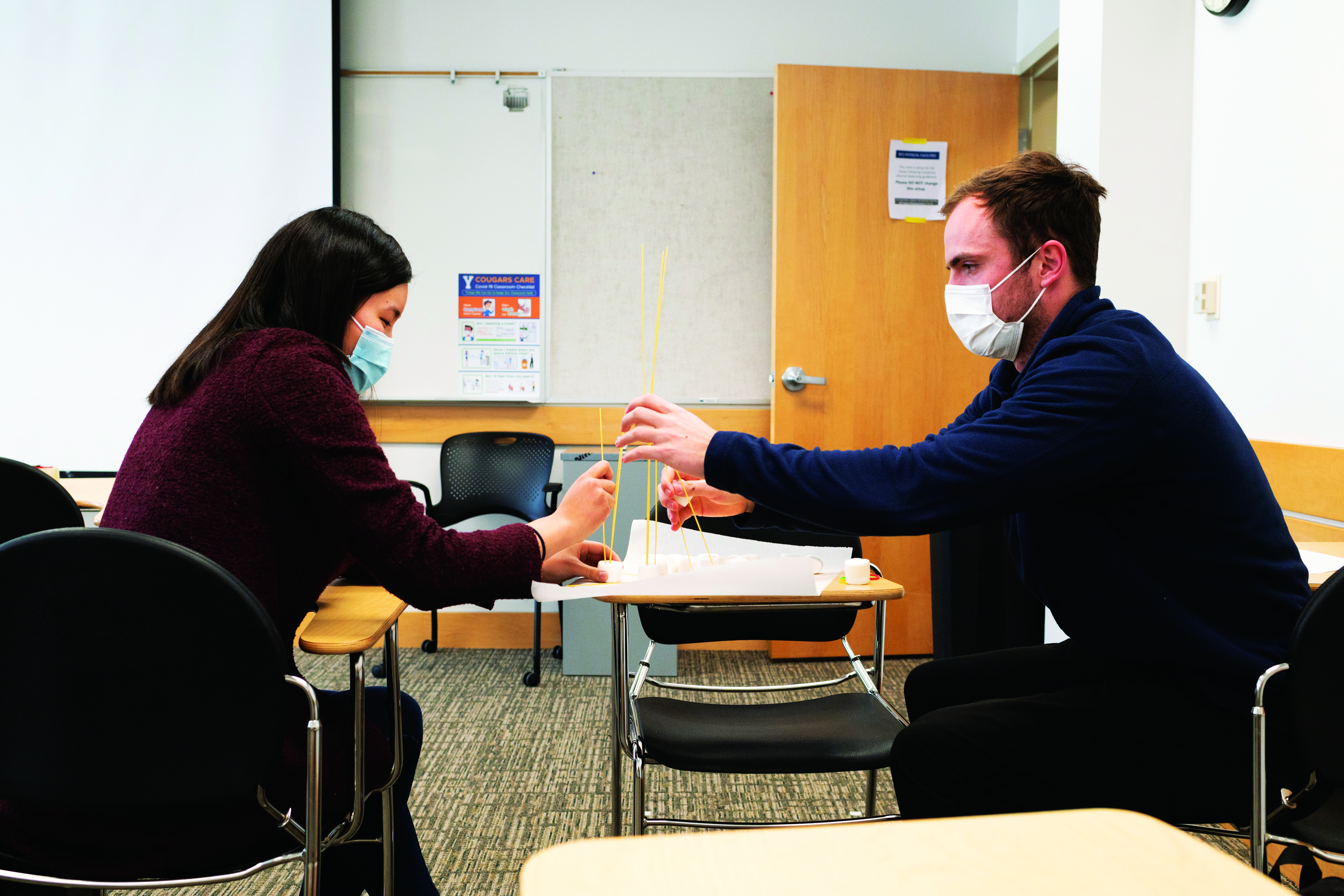 Students in class
Lupita Herrera
In addition to these unexpected advantages to modified teaching practices in online instruction, some professors noted a new sense of community and comraderie among students as they teach online. Anna-Lisa Halling of the Department of Spanish and Portuguese noted that she gets glimpses into the personal lives of students because they attend class from their homes. She can see their room, their dog, or even a child in the background as they learn from home. "It feels a little more intimate in a certain way," Halling said. "[It reminds me that] we're all human, and we're all in this together."
Many, if not all, professors look forward to the day that their physical classrooms will fill with students again, but many of the new learning opportunities and techniques from online education will stay. The resilience and creativity of educators at BYU will allow students and faculty to look back on this unique time as a stepping stone of educational progress benefitting the next generation of students.
1. Damron, Julie, Teresa R. Bell, and Jennifer Quinlan, "Student Motivation and Stress in Language Classrooms Amid Emergency Remote Teaching and Learning," (Forthcoming).